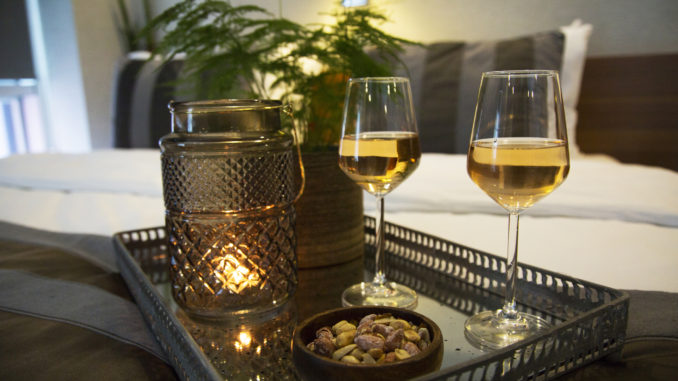 Ordering hotel room service can often be a frustrating experience for hotel guests. Guests must find a paper menu buried somewhere in their room and dial a room service phone number, often waiting on hold for an extended period of time.
Guests must then communicate their order to staff over the phone, which can present language challenges especially for international guests. Guests frequently wait for long periods of time for their dinner to arrive with no updates on the status of their order.
Upon checkout, guests rarely have an itemized dinner bill as room service usually appears as a bulk charge on their bill.  Since many customers do not officially check out at the front desk when they leave, consumers are often surprised by the room service charges they see after the fact on their credit card.
This can also result in hotels experiencing significant chargebacks and fraud as there is no signature or PIN captured with the transaction. To address those challenges, Glance Technologies today announced the upcoming release of a hotel room service feature that leverages its new ordering and payment technology. The new room service product will allow consumers to securely and conveniently order from their room and pay for their meal using the Glance Pay app on their phone.
Users could simply scan or tap a marker in their room, make their desired selections, and pay from their mobile phone.  Users would be able to see the status of the order on their device until the food and drinks are delivered to their room.  A digital copy of their bill would be available on the user's device for verification and expense tracking.
Users could also access promotions and offers right from within the App, while benefiting from Glance's loyalty engine. The payments would be protected using Glance's proprietary and anti-fraud technology. Hotel operators can benefit from reduced staffing requirements, more accurate order collections, reduced fraud, more promotional opportunities, increased loyalty, and of course better customer experience. Glance's Room Service product will complement its upcoming Order From Table and Real-Time Bill products.
Glance Technologies is the owner of Glance Pay and Glance PayMe, a pair of complementary smartphone payment applications that enable merchants to provide their customers with quick secure payments, digital rewards, and a better customer experience. Glance offers targeted in-app marketing, geo-targeted digital coupons, customer feedback, in-merchant messaging, custom rewards programs, digital receipts, and digital deals.
Does your company have news it would like to share with our readers? If so, we invite you to review our editorial guidelines and submit your press release for publishing consideration.