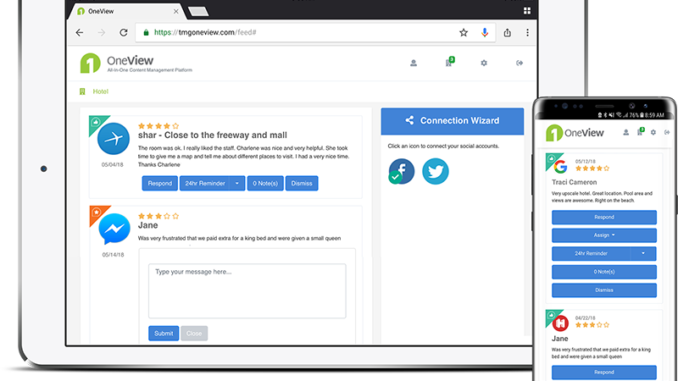 Travel Media Group, a hotel marketing company and solution provider based in Maitlin, Florida, has launched an enterprise digital marketing system for hotel brands and management groups to more efficiently manage guest reviews and communication. The system displays reviews and inbound guest messages in real time, with the ability to respond, add notes, and escalate issues directly in the dashboard. Brands can oversee guest feedback management for thousands of hotels in one intuitive dashboard.
The new enterprise tools are powered by the TMG OneView dashboard, which is also available for brands in white label and API integration forms. The system provides visibility for review and guest communication management at each stage of the response and resolution. The vision for the enterprise suite was to build solutions that make it easier to implement brand-wide standards for review responses and guest relations management.
Key features and benefits include the following:
Brand-Level Review Responses: Brands can opt to have reviews responded to immediately for Google, TripAdvisor, Facebook, OTA websites and brand-verified reviews. Or, if a mandated program is in place, Travel Media Group's U.S.-based writers will respond to unanswered reviews after a designated period. Advanced sentiment analysis reporting provides actionable insights at the property-level and helps brands identify trends in guest experience.
Guest Relations Ticketing System: Inbound communication from guests to the brand via website, social media and email marketing are handled efficiently using a ticketing system. Guests receive an immediate response to notify them that they will be contacted soon by the property. Then, property-level contacts can respond, add notes and resolve guest issues using the ticketing system. If tickets aren't addressed promptly, the tickets get automatically escalated in priority.
Brand-Level Social Media Management: Travel Media Group is currently developing a brand-wide social media solution to include content creation, post scheduling, ad management, and analytics.