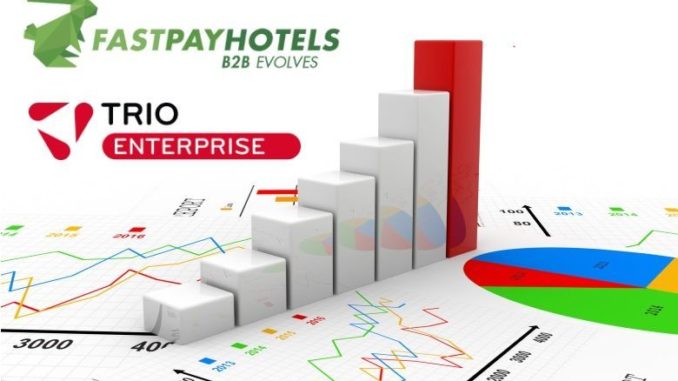 Triometric today announced that the Trio analytics platform is being used by Fastpayhotels, to gain clear visibility into its operational performance while benefiting from deep insights into its customer buying patterns, inventory availability and supply chain management.
Fastpayhotels launched in 2015 with a market disrupting business model by delivering a strong value proposition at an opportune time for the travel industry. Based on full payment at time of booking, the company promises improved cash flow and zero risk for its 26,645 hotel partners in 78 countries, and can in return deliver unbeatable hotel rates for its customers.
As a disruptive innovative company, the Fastpayhotels founders recognise the value of investing in and using their data to increase market penetration and Fastpayhotel's choice of the Trio Enterprise XML analytics platform complements their distribution environment perfectly. Trio Enterprise is highly adaptable to the different operating needs and environments and can be configured to monitor all XML traffic, regardless of booking platform.
Triometric and Fastpayhotels collaborated closely to identify the key operational metrics and business intelligence needed to support the performance and commercial objectives. Using Trio's analytics, the Fastpayhotels team will be able to proactively track a full range of key API performance indicators, including critical response times and timeouts in real-time.
Armed with alerts, reports and dashboards, the technical team benefits from automated detection of cut-offs enabling them to respond rapidly to any service interruptions or latency issues affecting their customer service or business operations. The business team benefits from intelligence reports into their search and booking traffic covering error reporting, search and booking patterns that aid inventory planning and customer acquisition.
Does your company have news it would like to share with our readers? If so, we invite you to review our editorial guidelines and submit your press release for publishing consideration.