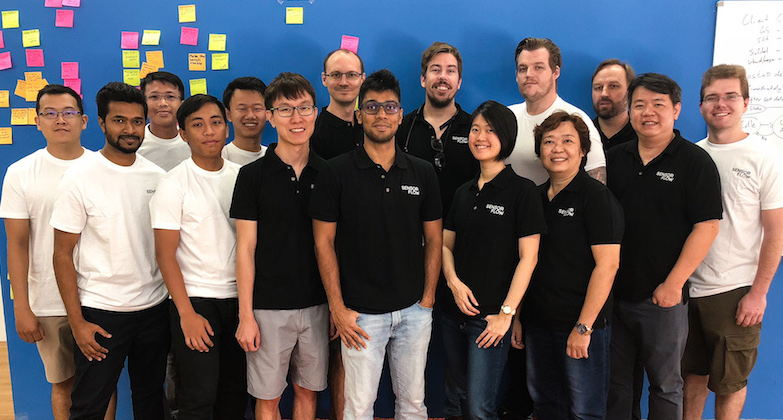 The Singapore-based Cleantech Firm is Poised to Meet the Hospitality Industry's  Escalating Demand for Environmental Sustainability
Singapore, 20 February 2019 – SensorFlow, the Singapore-based, smart energy management startup, announced today that it has secured a further US$2.7 million of Series A funding to accelerate its regional growth and achieve its mission to make Asian hotels smart and energy efficient.
The company's performance enhancing solutions deliver up to 30 percent in energy savings and up to 40 percent reduction in maintenance costs. The funds raised will boost SensorFlow's rapidly expanding operations enabling the company to meet the needs of a growing customer base of major hotel chains in Singapore, Indonesia and Hong Kong. It will also help drive the company's entry into new markets including Malaysia, Thailand, Vietnam, Cambodia and the Philippines which will bring the company closer to its goal of 800,000 smart hotel rooms by 2022.
The new funding is led by private investor Pierre Lorinet followed by Playfair Capital, Cocoon Capital, Entrepreneur First, 2be.lu Investments, Aurum Land and Insitu Asia Holdings. This brings the total funds raised till date to US$3.5 million. Last year's initial seed funding was led by Cocoon Capital and followed by SG Innovate and SparkLabs under the Entrepreneur First accelerator programme.
Co­-founder and CEO of SensorFlow, Saikrishnan Ranganathan, said, "With this investment we are in an even stronger position for market expansion to help more hotels within the region reach their sustainability goals. We look forward to building partnerships, pursuing opportunities with synergistic companies and working with local sustainability schemes across the region to further champion energy efficiency and make smart green hotels a standard practice in the industry. We also have our eyes set on entering Sri Lanka, India, United Arab Emirates and Saudi Arabia within the next two years."
Over the past year, SensorFlow started deploying property-wide solutions for The Uncharted Co's 5footway.inn in Singapore and completed trials in three Alila Hotels & Resorts properties in Bali, driving a 30 percent reduction in energy costs. The company also tripled its staff and made key executive appointments in operations, engineering and sales. The team is currently in the midst of securing contracts with hotels and property developers in Singapore, Malaysia, Indonesia and Thailand.
The SensorFlow solution solves three key challenges that earlier prevented hoteliers from implementing effective, integrated energy management solutions. The first is the large upfront costs for hardware followed by the inconvenience of a long installation period. The last key challenge has been the lack of integration options with existing systems.
"With energy consumption accounting for more than 60 percent of utility costs, hoteliers constantly seek to improve their energy efficiency. However, they often grapple with the challenge of incurring high costs and disruptions when implementing new energy solutions. This is why we created an innovative, retrofit solution that is easily installed in a matter of minutes and which seamlessly integrates into existing infrastructure. We use wireless sensors to collect real-time data and artificial intelligence (AI) to automate decision-making. This is offered in a zero-upfront cost subscription model – catering to hotels that are unable or unwilling to tap into larger capital expenditure budgets," added Ranganathan.
According to the International Energy Agency, Southeast Asia's energy demand is expected to grow by nearly 60 percent by 2040. With the building sector accounting for approximately 25 percent of Asia's overall energy consumption, there is great potential for solutions that can create more sustainable energy consumption.
About SensorFlow
SensorFlow Pte. Ltd. is a Singapore-based, cleantech startup combining the use of smart wireless IoT solutions and AI to help buildings monitor, analyse and automate energy consumption for better productivity, sustainability and energy efficiency. It was founded in 2016 by Saikrishnan Ranganathan and Max Pagel in response to the pressing need for energy optimisation worldwide.
In addition to heating, ventilation and air conditioning (HVAC) management, SensorFlow's solutions offer real-time data insights on energy consumption, occupancy trends and guest behaviours. These can be used to enhance the overall guest experience at the room and create better management at the property and portfolio levels as building managers get prompt alerts on faulty equipment. Housekeeping routes can also be optimised in real-time based on room occupancy data.
SensorFlow's retrofit solutions, which comprises sensors and proprietary networks, are quick and easy to install with less than 10 minutes of downtime and with no operational disruptions. Its pay-as-you-save model means there are no upfront costs. Alternative agreements can also be provided with a one-time upfront payment for two years guaranteed ROI. Hotels are expected to save up to 30 percent in total energy savings and up to 40 percent in maintenance costs.
For more information: https://www.sensorflow.co